On Leading Through the Good Times, and
the Bad


When I joined Plaza Home Mortgage in 2004, Kevin and James had been growing the company very quickly. At that time, they were lending in 10 or 12 states and had just achieved the first year in which Plaza had funded $1 billion. As I came aboard, we all had our sights set on continuing to expand - to become a national lender in all 50 states and to keep growing our volume along with our footprint.

We were successful, and Plaza's growth trajectory continued. The first year after I joined, we grew our volume by 50%. The next year we nearly doubled that volume and were up again another 25% the next year. It took time and perseverance, and ultimately, we reached the goal of funding $1B in a month. When we reached that milestone, it was a big accomplishment from where we had started.

On Strategic Agility
On the flip side, there have certainly been some scary periods that we have gone through. Even though much of my job is to be prepared for the worst but hope for the best, we are all at the mercy of the markets and they can surprise you.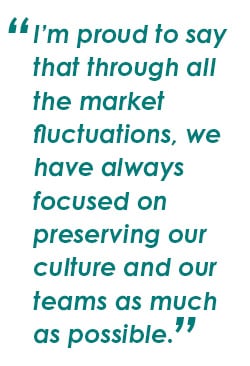 The financial crisis that started in 2008 is first that comes to mind. That was a pretty nerve-racking period for Plaza, as it was for most lenders. We watched warehouse banks close doors left and right, and our competitors were lining up on the "Implode-o-meter" list. While we weren't expecting fallout of that magnitude, we did make a critical decision early on that probably saved the business, which was to make sure we had a good number of warehouse relationships. Ultimately, we ended up with just a couple left because so many of them went out of business, but it was enough to keep us going.

The onset of COVID-19 this year is another great example. We suddenly found ourselves adjusting to market changes that were happening minute by minute. The entire industry was struggling to keep up with the margin calls, but we formulated a strategy, made some adjustments and were able to put ourselves in a great position to take advantage of this unprecedented market. What's more, we moved nearly our entire staff to remote working almost overnight, and still maintained record quality production.

On Expertise
I think much of what's driven Plaza's success over the years has been our ability to make the right decisions for the company at the right time, and choosing to invest time and resources in the right places. One of those areas that we invested in heavily, and that I consider to be our greatest asset, is our associates.

Plaza associates have always had the ability to get the job done. They're the reason that we have the reputation as a lender that can handle complex deals, not just cookie-cutter ones. Our associates are dedicated, tenured and work hard to build and maintain our clients trust. And I'm proud to say that through all the market fluctuations, we have always focused on preserving our culture and our teams as much as possible.

On What Matters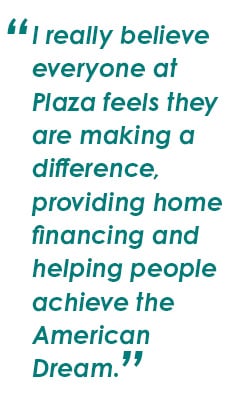 After 16+ years, I am truly proud of the company that Plaza has grown to be, and think our greatest accomplishment is that we as a team have been here for our clients and hundreds of thousands of their borrowers. It may sound trite, but I really believe everyone at Plaza feels they are making a difference, providing home financing and helping people achieve the American Dream.

The future of Plaza looks just as bright today as it did when I started, and I am excited to continue our growth as a TPO for both the Wholesale and Correspondent lending markets, and also to promote employment and growth opportunities for our current and future associates.


December 2020